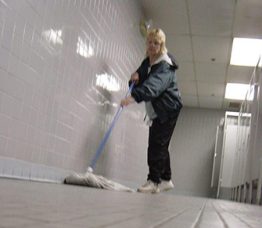 No matter what type of building you own or what your day-to-day operations may be, your floors are sure to be the most trafficked surface.
Pro Clean Building Services, Inc.
offers complete floor cleaning services, designed to help keep your floors in pristine condition and free of debris. From carpet to hardwood, concrete to tile and more, we apply time-tested methods to ensure unparalleled floor cleaning in Fort Wayne, Huntertown, and Garrett, IN. Our floor cleaning services aren't limited by your facilities, either. We have experience in cleaning floors in all different types of settings! From office carpeting that sees heavy wear and tear, to warehouse floors that see spills and neglect, we're ready to tackle the job.
Carpet Cleaning & Repair
Our specialty is carpet cleaning in Fort Wayne, IN for homes and businesses. We use powerful steam cleaning methods to completely absolve your carpets of detractors, cleaning deep down into the carpet pad for results that are simply unparalleled. We remove spots, stains, wear marks, odors and more, to restore the fiber, color and feel of your flooring.
In addition to deep cleaning, we're also able to offer you stretching and seam repair for residential and commercial carpet. We know how much abuse these high-traffic areas see on a routine basis. Our goal is to help make your carpet last as long as possible.
Safe & Dependable Products
Because we care about every environment we clean in, our team uses cleaning products that are safe and highly effective. We'll ensure everything is properly sanitized, without using harsh abrasives and chemical-ridden cleaners that can cause even more damage. From your carpets to your hardwood floors and any other flooring material you're walking on, trust us to provide exceptional results without needing harsh cleaners to deliver them.
---
To have our expert team thoroughly clean your carpets or other floor surfaces for your commercial, industrial, or residential facility, contact us today by calling 260-637-6200.